ABN's Drilling Results Coming Soon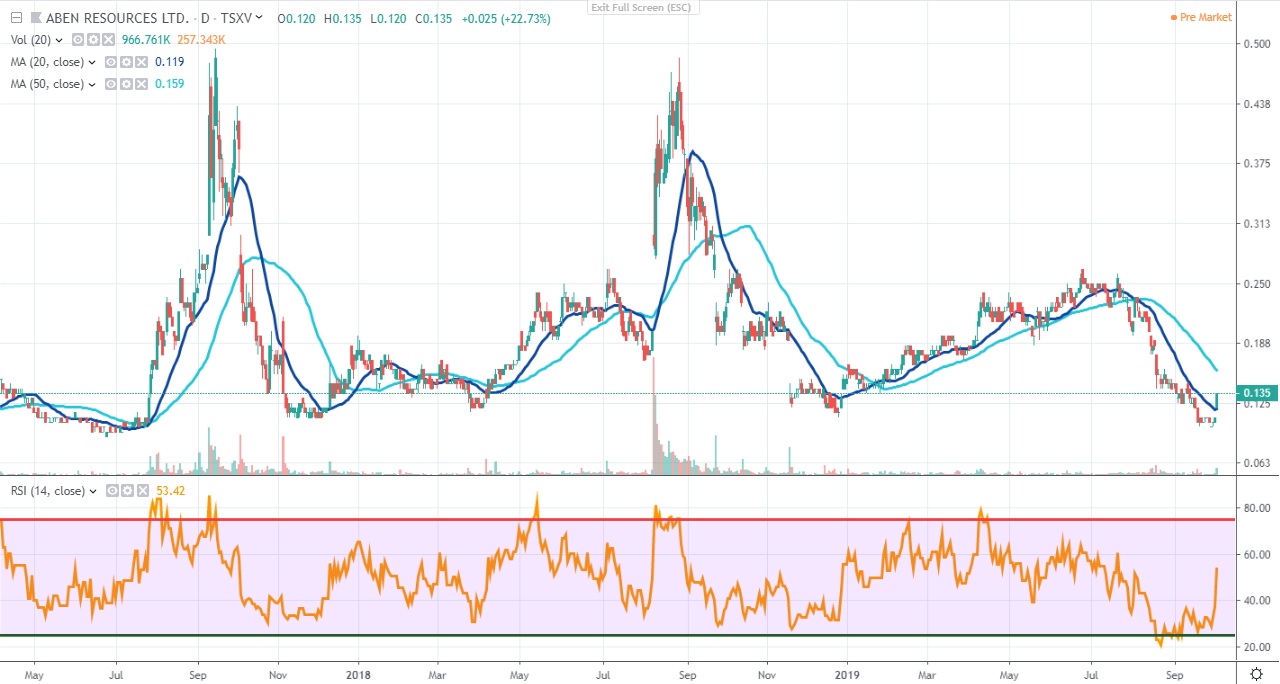 Yesterday morning, NIA announced Aben Resources (TSXV: ABN) at $0.11 per share as its first ever Golden Triangle stock suggestion. NIA gave ABN a perfect confidence rating of 100 out of 100. ABN gained by $0.025 or 22.73% to close yesterday at $0.135 per share on strong volume of 966,761 shares or 3.76X above its trailing 20-day average volume!
ABN closed yesterday above its 20-day moving average for the first time since July 22nd when the stock was trading for $0.255 per share or 88.89% above its current share price! Historically when ABN has surpassed its 20-day moving average after an extended period of time below it, ABN has always surpassed its 50-day moving average within days. ABN's current 50-day moving average is $0.159 per share.
The Chairman of ABN is Ronald Netolitzky, the geologist who ignited the Golden Triangle's last major gold rush in 1986 after he successfully discovered the high-grade Snip Mine as President of Delaware Resources, which had optioned the property from Cominco and saw its share price explode from $1 up to $28. After Delaware Resources got taken over by Pezim and rolled into Prime Resources, Netolitzky invested big into Consolidated Stikine Resources, which owned rights to the Eskay Creek property nearby Snip in the Golden Triangle. Netolitzky became one of the company's five controlling shareholders and managed the Eskay Creek drilling campaign, which intercepted 27.2 g/t gold and 30.2 g/t silver over 208m, causing its stock to explode from $0.30 to $64 within a year before it was acquired by International Corona for $67 per share!
Netolitzky then became President of Loki Gold, where he successfully brought their Brewery Creek gold project into production. Loki Gold later merged with Viceroy Exploration Ltd. and Netolitzky became the Chairman and President of the newly combined company. Netolitzky achieved major exploration success at Viceroy's Gualcaymayo gold project in Argentina.
In 2006, after Viceroy's share price exploded from $3 to $18, Netolitzky sold Viceroy to Yamana Gold (AUY) for USD$577 million. Afterwards, Netolitzky became Chairman of Brett Resources and in 2010 he sold the company to Osisko (OR) for USD$372 million. Netolitzky has now become Chairman of ABN and we believe he will once again repeat his pattern of Golden Triangle success!
ABN's flagship 23,000 hectare Forrest Kerr Project is located in the heart of the Golden Triangle directly adjacent to Garibaldi Resources (TSXV: GGI)'s flagship 6,300 hectare Nickel Mountain project. Prior to GGI entering the Golden Triangle region, NIA announced GGI as its stock suggesiton at a price of only $0.295 per share. Afterwards, GGI rose to a high of $5.27 per share for a gain of 1,686.44%!
ABN has 116.7 million shares outstanding for a market cap at $0.135 per share of CAD$15.75 million! As of September 30th, ABN still has a strong cash position of approximately CAD$2.5 million and no debt, for an enterprise value of only CAD$13.25 million!
In August 2018 after ABN's FK18-10 drill hole intercepted 38.7 g/t of gold over 10m for 387 grammetres of gold, ABN rapidly exploded from its August 1, 2018 low of $0.17 per share to an August 28, 2018 high of $0.485 per share for a gain of 185.3% in less than one month! We expect ABN to announce results from its latest drilling campaign at the Forrest Kerr Project in the near-future!
Past performance is not an indicator of future returns. NIA is not an investment advisor and does not provide investment advice. Always do your own research and make your own investment decisions. This message is not a solicitation or recommendation to buy, sell, or hold securities. NIA has received compensation from ABN of US$20,000 cash for a one-month marketing contract. Never make investment decisions based on anything NIA says. This message is meant for informational and educational purposes only and does not provide investment advice.